Opposition leaders' prosecution may harm US-Ukrainian relations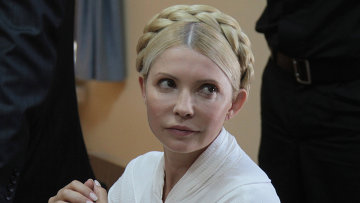 11:19 06/02/2012
KIEV, February 6 - RAPSI. The selective prosecution of Ukrainian opposition leaders could put a strain on the relationship between Ukraine and the United States, said congresswoman Marcy Kaptur, reported Yulia Tymoshenko's website on Sunday.
"The Ukrainian government's recent actions are a setback for democracy and human rights. I have worked for decades to strengthen ties between the U.S. and Ukraine, and this could put a strain on the relationship between Ukraine, the U.S. and the international community," Kaptur said at her February 3 meeting with Tymoshenko's daughter Eugenia, according to the website.
Former Ukrainian Prime Minister Yulia Tymoshenko was sentenced in October to seven years in prison for abuse of power in signing gas contracts between Ukraine's Naftogaz and Russia's Gazprom in 2009. In late December she was taken to the Kharkiv penal colony.
Defense insists that Tymoshenko's health is getting worse every day, but the penitentiary authorities assure that any worries about her condition are ungrounded. Tymoshenko demands an independent international medical examination since she does not trust doctors working at the Ukrainian Ministry of Health. The Prosecutor General's Office recently reported that foreign physicians will examine her soon.
Kaptur's website reported her concern about Tymoshenko's physical well being in view of her imprisonment. It also reminds that in response to the former prime minister's imprisonment in October 2011 Kaptur introduced a resolution condemning former prime minister's politically charged prosecution.