Court extends arrest of main defendant in fatal shipwreck killing 122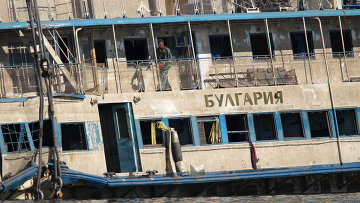 10:26 30/12/2011
KAZAN, December 30 - RAPSI. A court extended on Thursday an arrest of Svetlana Inyakina, head of the Argorechtur company which operated the sunken riverboat Bulgaria, until March 10, at the request of investigators, RIA Novosti reported.
The Bulgaria, a double-decked riverboat, was built in Czechoslovakia in 1955. The cruise ship with 201 passengers and crew aboard was sailing from the town of Bolgar to Kazan, the capital of Tatarstan. The ship was caught in a storm and sank on July 10 in the Kuybyshev Reservoir of the Volga River three kilometers from the riverbank. 122 people died, only 79 survived.
Investigators maintain that Inyakina may try to escape or impose pressure on witnesses while the investigation is on.