Khodorkovsky plans to write governance work in prison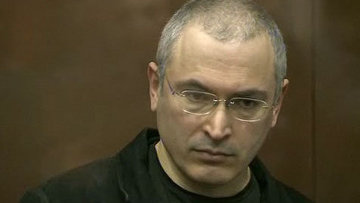 16:54 22/12/2011
MOSCOW, December 22 - RAPSI. Former YUKOS head Mikhail Khodorkovsky, who is serving a 13-year prison sentence in a Karelian jail for oil theft and money laundering, plans to write a work on governance, the Khodorkovsky Press Center reported on its website on Thursday.

The press center published Khodorkovsky's answers to questions asked by the Karelian public.

"My plans for the future are to write a work on governance and to get out of jail," he said.

He also said that he is satisfied with the confinement conditions in the Segezh Prison.

"The confinement conditions for me are quite hard because the prison management pays a lot of attention to me. It is hard to stay here, but I have not faced any major difficulties thus far. The food is unvaried but filling. We have enough bread and cereal," the former oil tycoon said.

Khodorkovsky added that he will not vote in the presidential election in March 2012, as prisoners are legally prohibited from voting.


The YUKOS case has been one of the most high-profile cases in Russia in recent years. In early 2000 the Russian authorities cracked down on the YUKOS management for alleged financial crimes. At the time, YUKOS was Russia's largest oil company. YUKOS later went bankrupt and its assets were appropriated by the state-owned Rosneft.

In 2005, Khodorkovsky and Lebedev were sentenced to eight years in prison for fraud and tax evasion. In late 2010, a Moscow district court sentenced them to 14 years in prison for oil theft and money laundering. They were expected to be released in 2017, taking into account the time they had already served for their convictions from their first trial in 2005. However, on May 24, the Moscow City Court reduced their sentences by one year. They now may be released in 2016.