Dispute between family members over Inteco's sale to be heard in court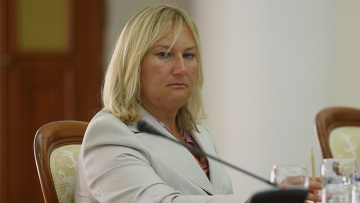 14:33 05/10/2011
MOSCOW, October 5 - RAPSI, Alyona Yegorova. A commercial court registered a lawsuit filed by Viktor Baturin, a founder of the Inteco development company, to invalidate the sale of Inteco to Mikail Shishkhanov, major bank's president, and Sberbank Investitsii, the court told the Russian Legal Information Agency (RAPSI) on Wednesday.
Inteco is a multi-profile company and one of Russia's top developers. Viktor Baturin co-established the company. It is owned by Russia's richest woman and wife of former Moscow Mayor Yelena Baturina.
Baturin requested the sale of 100 percent of Inteco's shares to be rendered illegal. He also seeks to restore 25 percent of his shares in the shareholders' register.
"The transaction is null and void because my sister disposed of property that does not belong to her," he told RAPSI.
Binbank is a top-30 Russian bank. Shishkhanov holds 97.079 percent of Binbank's charter capital. According to Forbes, the 39-year-old businessman is one of Russia's 200 richest businessmen.
Sberbank Investitsii is a 100-percent subsidiary of Sberbank. It was established in 2010 to manage assets, which are attractive in terms of investments.