State Duma could bring back imprisonment for corruption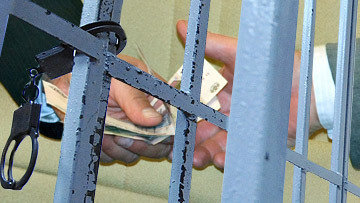 14:41 30/05/2014
MOSCOW, May 30 (RAPSI) - Mikhail Starshinov, head of the interparty group for cooperation between civil society institutions and law enforcement agencies, told the media this Friday that the parliament could bring back prison sentences instead of large fines for corruption related crimes. Several years ago, as a measure to liberalize criminal punishments, a law was adopted that replaced imprisonment with fines for corruption.
"Yes, we tried replacing prison terms for corruption with fines but it did not bring the result we expected. There has been no decrease in bribery. Therefore, I think it would be reasonable to discuss this in the State Duma with all involved agencies. It is necessary to analyze the legal practice, study the statistics and then move towards resolving this issue by changing or bringing back some regulations," Starshinov said.
Earlier, Chairman of the Investigative Committee Alexander Bastrykin announced that replacing prison terms for corrupt officials with large fines did not prove effective and suggested further changes in this area.
Starshinov noted that before making any significant changes to the law that affects the interests of the entire society, an in-depth discussion is required, not just online but also with experts. The discussion could cover such issues as liberalizing the criminal law, the reform of the Interior Ministry and other developments that did not produce the expected result.