MOSCOW, January 23 (RAPSI) - Russian Prosecutor General's Office considers that the sentence in the second case of ex-YUKOS CEO Mikhail Khodorkovsky and his business partner Platon Lebedev is open for 'mitigation', RAPSI reports from the Supreme Court on Thursday.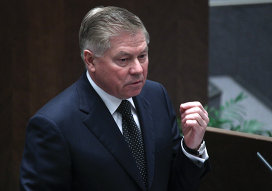 According to the prosecution, doing so will amend the sentence according to the recent changes in Russian Criminal Code. During the hearing, the prosecutor said that the sentence in the second YUKOS case can be mitigated in one of the charges within the indictment. The extent of mitigation was not specified.
The review of the second YUKOS case, which resulted in 14 years in prison for both Khodorkovsky and Lebedev, became possible after the Supreme Court chairman Vyacheslav Lebedev overturned the previously blocked appeal, and allowed another review. The Chief Justice cited new circumstances in the case - the recently amended Criminal Code which allows for more lenient liability for economic crimes.
In 2005, Khodorkovsky and Lebedev were sentenced to eight years in prison for fraud and tax evasion. The second trial commenced in March 2009 and concluded with a guilty verdict in December 2010. The Khamovnichesky District Court of Moscow sentenced both men to 14 years in prison for oil theft and money laundering.
Khodorkovsky was released December 20 from serving out his sentence further as Russian President Vladimir Putin signed a decree pardoning him. Platon Lebedev remains incarcerated to date, but expressed hope that Khodorkovsky's pardon would open a way to freedom for him.