Moskalkova seeks to clear up circumstances of Russian vessel's arrest in Ukraine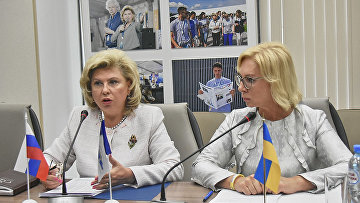 17:10 25/07/2019
MOSCOW, July 25 (RAPSI) – Russia's ombudsman Tatiana Moskalkova on Thursday asked by telephone her Ukrainian colleague Lyudmila Denisova to clear up circumstances of the arrest of a Russian tanker, the ombudsman's press service reports.
Moskalkova requested Denisova to find out are there Russians among the crew members, whether they received a consulate support, and she also asked the Ukrainian human rights commissioner to check the observance of their rights.
Denisova promised Russian ombudsman to clear up the situation involving the vessel crew as soon as possible.
On Thursday, the Security Service of Ukraine arrested a Russian tanker at the port Ismael in the Odessa Region. The Kiev authorities claim that the oil vessel blocked Ukrainian ships in the Kerch Strait in 2018.
On November 25, 2018, Russian border guard officers had to engage a weapon to stop unwarranted maneuvers of three Ukrainian ships in Russia's territorial waters in the area of Kerch Strait. The ships were seized while 24 crew members were arrested. Three sailors were wounded. Later, the sailors were put in Russian detention.