Fines for anti-tobacco law violations amount to $1 mln in first half of 2018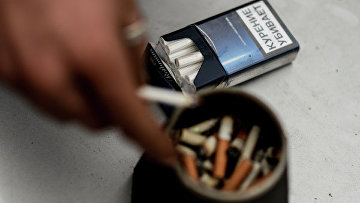 13:59 09/08/2018
MOSCOW, August 9 (RAPSI) – The total amount of fines imposed on violators of anti-tobacco legislation reached over 70 million rubles ($1 million) in the first half of 2018, Russia's consumer rights agency Rospotrebnadzor reported Thursday.
Over 5,100 offenders were fined, the statement reads.
Since November 2013, about 70,000 violators including 9,500 companies have been subjected to administrative liability, according to Rospotrebnadzor.
Ban on smoking in public, in particular in government buildings, healthcare and educational facilities, at cultural sites and sports facilities and on public transport, including railway stations and airports, was adopted in 2013 to protect public health from the hazardous effects of tobacco smoke and smoking.
The law provides for a staged introduction of antismoking measures, first banning smoking at stadiums, in schools, universities, hospitals and stores, at children's playgrounds, as well as in lifts, on airplanes and at filling stations. It also banned tobacco advertising and commercials.
The legislation became effective on June 1, 2013. It also prohibits the display of tobacco products at the point of sale in stores and smoking scenes on screen and on stage. Social anti-tobacco ads must accompany the broadcasting of old films that include smoking scenes.