Russian Human Rights Council argues against blocking of Telegram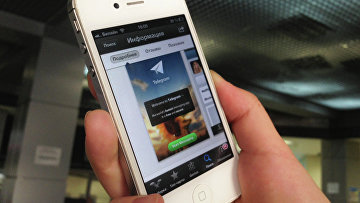 18:01 03/04/2018
MOSCOW, April 3 (RAPSI) – Members of the Presidential Council for Human Rights have called the communications watchdog Roskomnadzor to refrain from blocking Telegram messenger in Russia, according to information published on the advisory body's website.
Moreover, human rights advocates asked the Federal Security Service (FSB) to find other ways of legal access to the messages of users endangering the national security, the statement reads.
The Presidential Council for Human Rights spoke out in favor of balance of interests accommodating people's rights to private life and the need to ensure public security.
In June 2017, the communications watchdog Roskomnadzor requested Telegram management to comply with the Russian legislation or face blocking of the messenger. Telegram founder Pavel Durov agreed to register the service in Russia. However, he refused to abide by "laws incompatible with Telegram privacy policy," Durov wrote on his VKontakte (VK) page in late June.
In July, Durov received the FSB requests to provide information for decoding messages of six app users. In September, law enforcement authorities drew up administrative protocols against Telegram because of law violation, as Durov failed to reply for the request.
The Meshchansky District Court of Moscow has fined the company 800,000 rubles ($14,000) for refusal to provide FSB with information on message decoding concerning several users. Telegram has been found guilty of failure to store and (or) furnish information on users and their messages to law enforcement agencies. The ruling has become effective.
According to the Federal Law "On Information, Information Technologies and the Protection of Information", organizers of information distribution on the Internet must submit information about users and their messages to the authorized governmental bodies conducting investigative activities and ensuring the state security.