Putin: Explosion in St. Petersburg supermarket was terror attack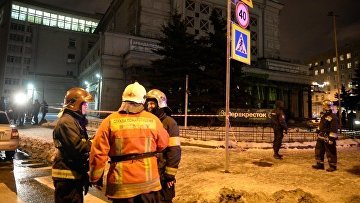 12:59 28/12/2017
ST. PETERSBURG, December 28 (RAPSI) – Explosion in a St. Petersburg supermarket that left 10 persons injured was a terror attack, according to a statement of Russia's President Vladimir Putin quoted on the official website for the head of state.
The statement was made during the presidential meeting with servicemen, who participated in military operation in Syria.
Putin noted that he ordered head of the Federal Security Service (FSB) to apprehend the perpetrators by the book but also to eliminate them on the spot if they are going to present danger to life and health of law enforcement officers.
According to the main directorate of the Ministry of Emergencies for St. Petersburg, notification about the explosion was received on Wednesday evening. There was no fire at the place, 50 visitors and store employees were evacuated.
Vice-governor of St. Petersburg Anna Mityanina said that 10 persons were hospitalized. One of them was discharged, others remain in condition varying from satisfactory to moderately serious.
The Investigative Committee reports that a homemade explosive was placed in the supermarket's storage chamber.