About 380 officials fired over "loss of trust" in Russia in 2016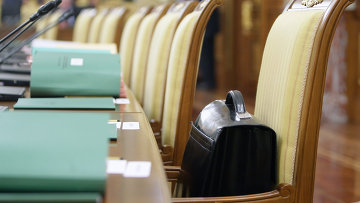 15:51 19/06/2017
MOSCOW, June 19 (RAPSI, Lyudmila Klenko) – About 380 officials were dismissed in Russia last year due to loss of trust in them, Sergey Plokhov, a deputy head of an oversight and anticorruption department of the Russian Prosecutor General's Office, said at a press-conference on Monday.
Initially, at the time the institution of "loss of trust" was introduced, employers were reluctant to dismiss people on these grounds, Plokhov said during the discussion relating to the issue of creation of a unified list of officials fired over corruption. Prior to 2015, he noted, only tens of officials a year were fired due to loss of trust, whereas 130 such cases were registered in 2015, 383 in 2016, and 62 in the first half-year of 2017.
The document under the discussion is envisaged to include state officials, prosecutors, investigators, customs and police officers, as well as civil and municipal servants along with employees of the Central Bank, Pension Fund, and some other state agencies. It is proposed to fix employers' responsibility to put former employees dismissed because of loss of trust on the list in the Russian Labor Code.
The proposed unified list, it is expected, will help HR workers to promptly obtain information about would-be employees as concerns their compliance with anticorruption laws and ethics regulations, although according to Anatoly Vyborny, a deputy chairman of the State Duma security and anticorruption Committee, the issue of the list's accessibility to the public is still open.
Experts have agreed that the most corrupt sector in Russia was that of state and municipal procurement. Last year, Plokhov noted, about 14.5 thousand corruption-related crimes were detected in the country overall, as compared with less than 14 thousand such crimes registered in 2015.