Over 7 tons of adulterated milk products seized in Russia in 2017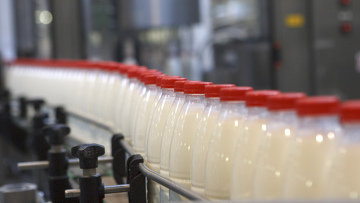 12:31 30/05/2017
MOSCOW, May 30 (RAPSI) - Russia's consumer rights protection agency Rospotrebnadzor seized over 7 tons of adulterated milk products in the first quarter of 2017, the watchdog announced on its website on Tuesday.
The total value of fines imposed on producers and distributors for these violations is equal to 6 million rubles ($106,200), the statement reads.
The agency has received 390 notices of revealing fake milk products in circulation.
Over 30 papers concerning revocation of declaration of conformity have been submitted to certification bodies, 8 cases have been sent to law enforcement agencies and activity of one enterprise has been suspended, according to Rospotrebnadzor.
In April, the watchdog reported that milk and imported fish products are being fabricated predominantly.