Putin: 45 crimes of terrorist nature prevented in Russia in 2016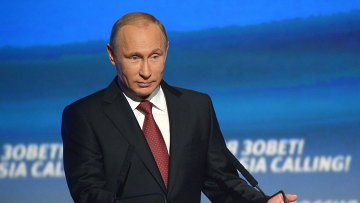 15:54 16/02/2017
MOSCOW, February 16 (RAPSI) – President Vladimir Putin said during the Federal Security Service's (FSB) collegium on Thursday that Russian security agencies prevented 45 crimes of a terrorist nature in 2016.
According to the President, Russian security services "managed to deal serious and telling blows to bandits and their accomplices." Amount of terrorist crimes dropped again; there are also results in their prevention, Putin added.
"FSB along with other security agencies under the coordinating eye of the National Anti-Terrorist Committee prevented 45 crimes of a terrorist nature including 16 terrorist attacks," the President noted.
The Federal Security Service's chief Alexander Bortnikov reported in turn that FSB officers in their work had complied with law, orders and instructions of the Russian President and plans of main organizational measures taking into account changes in the operational environment.