Terror attack is cause of Airbus A321 crash in Egypt – Russian official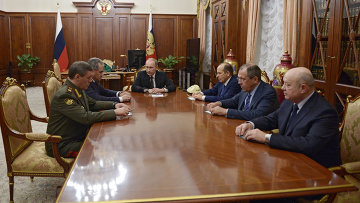 12:30 17/11/2015
MOSCOW, November 17 (RAPSI) – A terrorist attack was the cause of the Airbus A321 plane crash in Egypt that left over 220 people dead, the Federal Security Service (FSB) chief, Alexander Bortnikov, told President Vladimir Putin during the meeting on Tuesday.
Experts found that explosion of a handmade bomb containing about 1 kg of trotyl resulted in breaking-up of the airliner in mid-air, Bortnikov said. Examination of victims' personal items and elements of the airplane revealed explosive residue, he added.
The biggest disaster in the history of Russian and Soviet aviation happened on October 31: Airbus A321 airliner of "Kogalymavia airlines, which was flying from Sharm el Sheikh to St. Petersburg crashed in the Sinai. All 224 people on board including seven crew members died in the crash.