Russian consumer rights regulator confiscates 45 tons of banned imports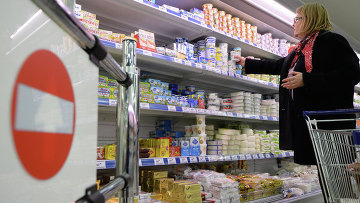 10:32 08/07/2015
MOSCOW, July 8 (RAPSI) – Russia's Federal Service for Supervision of Consumer Protection and Welfare (Rospotrebnadzor) confiscated about 45 metric tons of banned imports between August 8, 2014 and July 1, 2015, the consumer rights regulator said on its website on Wednesday.
"As of July 1, 2015, Rospotrebnadzor has intercepted the import of 264 consignments of banned products weighing over 2.6 million kg and has withdrawn 44.8 metric tons of banned foods from circulation, including 2.9 metric tons of milk and dairy products, 3.9 metric tons of fruit and 0.8 metric tons of vegetables," the regulator said in a statement.
Rospotrebnadzor also inspected 24,000 facilities, which have been issued over 28,000 fines totaling over 145 million rubles ($2.5mn) for violations of sanitary and consumer rights legislation.
On June 25, Russian authorities extended the food embargo until August 5, 2016 in response to the EU's decision to extend the sanctions against Russia until January 31, 2016. Spats and baby salmon have been removed from the Russian list of banned imports, which was enforced on August 7, 2014, while cheeses and lactose-free foods were added.
Prime Minister Dmitry Medvedev has said that the decision to extend the import ban was "based primarily on economic rather than political considerations."