Top managers, executives of Trust Bank suspected of embezzling $253 million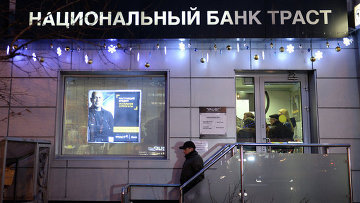 17:51 24/04/2015
MOSCOW, April 24 (RAPSI) – Moscow police have launched a 13 billion ruble ($252.8 million) embezzlement probe linked to mid-sized lender Trust Bank, the Interior Ministry reported on Friday.
Top managers and executives of the bank are accused of conspiring to embezzle funds from its accounts, according to the police.
From 2012 to 2014, the suspects allegedly forged loan agreements for over 7 billion rubles ($136 million) with several Cyprus-based companies and for over $118 million with companies registered in other jurisdictions.
The money was presumably transferred to the accounts of individuals, including some living abroad, that were controlled by the suspects.
As a result, Russia's Deposit Insurance Agency sustained large damages because it was required to compensate the embezzled funds to defrauded investors of the bank.
Trust Bank was established in 1995 and is ranked by Russia's Central Bank among the country's top 30. As of December 1, 2014, its assets were estimated at over 290 billion rubles ($5.64 billion).