Defense says Dadayev's confession to killing Nemtsov coerced - report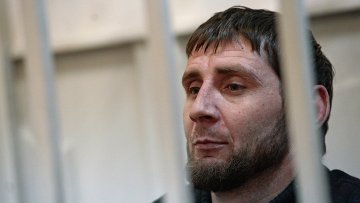 10:34 17/04/2015
MOSCOW, April 17 (RAPSI) – The lawyers for Zaur Dadayev accused in the murder of opposition politician Boris Nemtsov in late February vow to prove that their client's confession to killing was coerced, Izvestia newspaper reported on Friday.
Dadayev reoprtedly admitted to having killed Nemtsov and also testified against the other four suspects. But he retracted his previous statements in court, saying that he confessed under pressure.
"I have requested that the investigative authorities conduct an additional interrogation of Dadayev," Izvestia quoted his lawyer, Shamsudin Tsakayev, as saying.
"The text of the protocol looks strange. It starts with a well formulated introduction, as if it were a speech by a party functionary. It's not how a man from Chechnya who earns his living by combing the forests looking for criminals speaks. We don't believe it was Dadayev who said this and that he doesn't talk like that. It looks as if the investigator wrote all of this, although under the law investigators are required to write down everything the suspects say exactly as they say it," Tsakayev said.
A special cases investigator at the Investigative Committee told Izvestia that the court is not likely to rule the protocol as inadmissible evidence. Investigators are indeed required to write down witness testimony as accurately as possible, but if a suspect is rambling or cursing, they don't have to quote him or her.
Nemtsov, co-chair of the Republican Party of Russia – People's Freedom Party (RPR-PARNAS) and former first deputy prime minister in the Yeltsin government, was fatally shot as he walked home with a girlfriend in central Moscow late on the night of February 27. He joined the opposition in the 2000s.
Five men were arrested on suspicion of killing Nemtsov: Zaur Dadayev, Anzor Gubashev, Shadid Gubashev, Khamzat Bakhayev and Tamerlan Eskerkhanov.