Moscow police open department focusing on CCTV footage analysis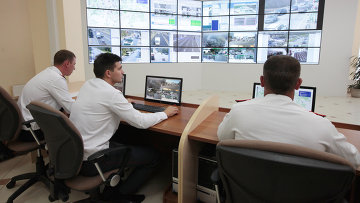 14:34 25/02/2015
MOSCOW, February 25 (RAPSI) – The Moscow police have opened a special department to investigate crimes using CCTV footage from the Safe City system, RIA Novosti reports citing Anatoly Yakunin, Director of the Moscow Directorate of the Interior Ministry.
Yakunin said that currently, police can access footage from 120,000 surveillance cameras from the Safe City system, which sometimes allows them to follow a criminal from the scene of a crime to his or her home.
"The Safe City system makes a great contribution to crime investigation. It helped in solving a high-profile murder in Western Biryulyovo and the murder of a student in the Eastern Administrative Area. I can give you more examples. Therefore, we have created a new department in the Criminal Investigation Directorate that will be using CCTV footage to investigate crimes," Yakunin said.
"Currently, we are using cameras to search for people who place drug ads and drug dealer numbers on walls and road surfaces. This is a very serious problem. We have already found several drug dealers using the cameras. This could be a huge help," the director said.