Interpol puts Ukrainian nationalist Yarosh on wanted list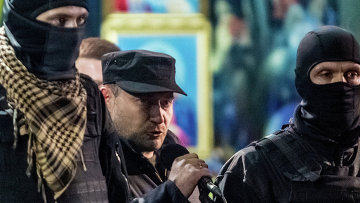 17:12 25/07/2014
MOSCOW, July 25 (RAPSI) – Interpol put Ukrainian ultra-nationalist Dmitry Yarosh on a wanted list, according to the organization's website.
He has been charged with public incitement to terrorist activities involving the use of mass media and public incitement to extremist activities involving the use of mass media.
Yarosh is considered to have been one of the leaders of the Ukrainian protest movement that recently uprooted Ukraine's power structure. Russia filed a request for Interpol's assistance in arresting Yarosh in March.
He stands accused in Russia of publicly endorsing extremism and terrorism in connection with an appeal he is suspected of having made to North Caucasus militant commander Doku Umarov. Specifically, Yarosh stands accused of asking for help with carrying out terror attacks on Russian soil.
Umarov, the self-proclaimed head of a secessionist group in the North Caucasus, has claimed responsibility for several terrorist attacks in Russia. He recently made international headlines after threatening to attack the Winter Olympics in Sochi.
Moscow's Basmanny District Court ordered Yarosh's arrest in absentia on March 11. Soon afterwards he appealed the order. On April 2, the Moscow City Court upheld an in-absentia arrest order issued against Yarosh.