Athens police arrest fugitive terrorist - report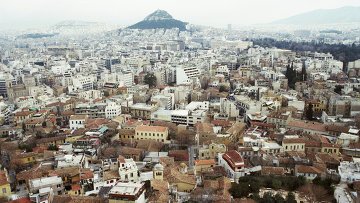 17:27 16/07/2014
ATHENS, July 16 (RAPSI) – Greek terrorist Nikos Maziotis, the convicted leader of the Revolutionary Struggle leftist rebel group who has been on the run for two years, was arrested in central Athens Wednesday while trying to rob a jewelry store, Greek media write.
Maziotis, a police officer and two tourists were injured in a shootout.
A group of motorcycle officers was patrolling central Athens when they received a call that an Alpha Bank branch office alarm went off. Upon arriving at the bank they saw three men armed with guns and grenades. Maziotis opened fire and threw a grenade, wounding a 29-year-old police officer.
In October 2011, Maziotis was released from pre-trial custody after serving the maximum legal time of 18 months on remand. In July 2012, he violated the strict conditions of his release, including a ban on leaving the prefecture of Attica, and fled. In 2013 he was sentenced in absentia to 50 years in prison.
Revolutionary Struggle, which Maziotis leads with his partner and fellow fugitive Panayiota (Paula) Roupa, first emerged in 2003 with a bombing attack on an Athens courthouse. It has claimed responsibility for several car bomb hits, including one at the Greek headquarters of Citibank in northern Athens in February 2009 and at the Athens Stock Exchange in September 2009, as well as a rocket-propelled grenade attack at the US Embassy in January 2007.
Greek security services broke up the group in April 2010, but it has resurfaced with fresh acts of terror in the past few months. In April 2014, it claimed responsibility for exploding a 75-kg car bomb at the Central Bank.
Police offered EUR 2 million for information leading to the arrest of four dangerous terrorists, including Maziotis, earlier this year.