Russian police nab two for 'fishing' money out of ATMs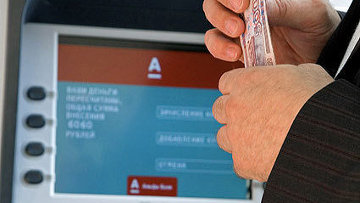 14:45 25/02/2014
MOSCOW, February 25 (RAPSI) – Two suspects were detained by the police in the Moscow region town of Ivanovo for 'fishing' money out of an ATM in a major mall, regional police reports on Tuesday.
According to the police source, both men confessed on the spot and submitted written testimonies, which according to the Russian Criminal Code may be viewed favorably by the court.
The suspects inserted a 1,000 ruble ($28) note into the ATM's receiver, with a length of a fine fishing line attached. The transaction went to their mobile phone account, and the note was extracted afterwards by gently pulling the line. The money were later transferred to credit cards and electronic wallets on the Internet. The men allegedly 'fished out' around 60,000 rubles ($1,700) in that fashion.
A criminal case was initiated, with police investigating any similar activity in the region.
ATM fraud was on the rise in Russia in 2013, when a sudden wave of counterfeit 5,000 ruble ($155) bills, apparently developed to bypass the ATM security mechanisms, prompted major Russian bank to block their machines from accepting all 5,000 notes.