Police detain Pussy Riot members at Sochi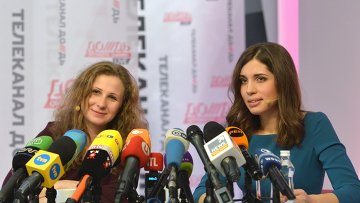 15:04 18/02/2014
MOSCOW, February 18 (RAPSI) – Members of the Pussy Riot punk band Nadezhda Tolokonnikova and Maria Alyokhina were detained by the Russian police on Tuesday at the Winter Olympic's city of Sochi, according to Tolokonnikova's twitter.
Tolokonnikova said they had been accused of theft. According to the Sochi Police Department, both women are now being held in the precinct and are going through questioning. A spokesperson for the police added that all the guests staying in the hotel with Tolokonnikova and Alyokhina questioned in connection to the reported theft.
Alexander Popkov, a lawyer who said he would be representing the women, told RIA Novosti that they had been detained on suspicion of stealing from a hotel.
Tolokonnikova and Alyokhina were recently freed after serving nearly 21 months of a two-year sentence for hooliganism. They were jailed for performing the "punk prayer" in Moscow's Christ the Savior cathedral as part of a political protest in 2012.
The activists were amnestied in December 2013.