Russian broadcasting holding fined for advertising Ponzi scheme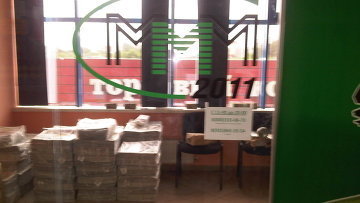 12:58 11/02/2014
MOSCOW, February 11 (RAPSI) - "ProfMedia" broadcasting company was fined for 100,000 rubles (over $2,800) for advertising the infamous MMM Ponzi scheme operation over the radio, Federal Antimonopoly Service reported on Tuesday.
According to the antitrust regulator, the broadcaster run an MMM advert on two of their radiostations, without claryfing who was providing the services described. The current advertising regulations stipulate that the service's provider must be named in the advertisment.
Sergey Mavrodi, a former mathematician and computer programmer, set up MMM, a pioneering Ponzi scheme in Russia in the early 1990's, which rapidly gained huge popularity among thousands of investors among a population in the Soviet Union with scant previous knowledge of private investment. Investors joining the scheme early on made impressive profits, while those piling in later lost everything, leading to a catastrophe as MMM collapsed.
Mavrodi was arrested in 2003, and was sentenced by a Russian court to four years in jail on fraud-related charges in 2007. But he was released the same year because he had already served most of sentence in pretrial custody.
When freed, Mavrodi re-launched similar schemes, setting up MMM branches in Russia, Ukraine, the Baltic States and elsewhere, with the ambition of "destroying the global financial system," as his website said.
In December 2013, The State Duma Committee on Civil, Criminal, Commercial and Procedural Law adopted a bill introducing criminal punishment for organizers and managers of financial pyramid (Ponzi) schemes, which they could evade through loopholes in the old fraud provisions.
Accroding to the ProfMedia's website, it is one of Russia's largest groups with a leading position in entertainment media. The group of companies manages a number of famous brands, including TV-3, PYATNITSA! and 2x2 in the television sector, Avtoradio, Energy, Radio Romantika, and Humour FM in radio, Central Partnership in film production and distribution, Cinema Park in cinemas, Afisha in print media.