Underground casino chain exposed in Moscow after arrest of police deputy chief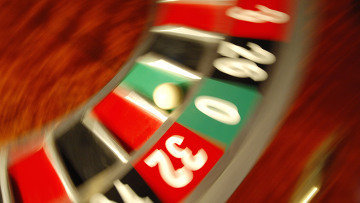 15:59 17/01/2014
MOSCOW, January 17 (RAPSI) - The Russian Interior Ministry reported this Friday that over ten illegal gambling clubs in various parts of Moscow were uncovered, each making over 100,000 rubles ($3,000) daily.
The statement was made after a deputy head of the Biryulyovo Vostochnoye district police was arrested on suspicion of illegal gambling business cover ups. There is no information as to whether the two incidents are related.
Several top police officials in the Biryulyovo district were fired last fall after violent nationalist riots over the murder of a local resident, allegedly by an Azerbaijani national. President Vladimir Putin sacked the police chief of Moscow's southern district and the head of the Western Biryulyovo police department over the anti-migrant protests in October.
It was reported that over ten gambling clubs located in various parts of Moscow as well as in the Moscow Region have been uncovered. The business was organized by immigrants from Georgia and Udmurtia and was managed remotely. The illegal daily revenue amounted to at least 120,000 rubles from each club. The money was transferred to the bank accounts of the gang leaders and then distributed between the members, the investigation revealed.
"As a result of over 20 searches, some 300 gambling machines and computers with gambling software were confiscated as well as over 5 million rubles ($150,000) in cash," the police reported.
A major scandal broke out in spring 2011, after the Federal Security Service (FSB) exposed a network of illegal casinos in the Moscow Region. According to investigators, businessman Ivan Nazarov organized illegal gambling in 15 regional towns with the alleged involvement of police and prosecution officers.
In all, ten law-enforcement officers were arrested in connection with the case. They were later released, but the investigation into their involvement is still in progress.
Casinos were outlawed in Russia on July 1, 2009, when a federal law was passed banning any gambling in the country except in four special zones located in different regions. Since the law was enacted, thousands of illegal gambling ventures have been closed by law enforcement agencies.