Boston Globe investigative report reveals host of surprising claims about Tsarnaevs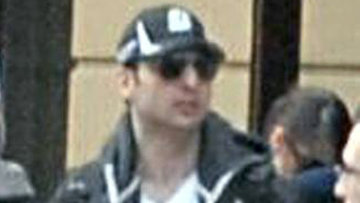 19:20 17/12/2013
MOSCOW, December 17 (RAPSI) - Tamerlan Tsarnaev, the elder of the two brothers suspected of having detonated the explosives that brought a tragic end to this year's Boston Marathon, had been hearing voices in his head for years prior to the attack, according to an investigative report published Monday by The Boston Globe.
The Globe spent five months interviewing the brothers' friends and family members in Russia, Kyrgyzstan, Canada, and the US.
A family friend told The Globe that the Tsarnaevs' mother Zubeidat confessed at one point in 2008 that Tamerlan had complained of the feeling that there were two people living inside of him. When the friend suggested getting a medical assessment, Zubeidat reportedly disagreed, saying that he would be fine.
Another friend of Tamerlan's reportedly told The Globe: "He said, 'Someone is in my brain, telling me stuff to do'… He said he was trying to ignore it but it was hard to do. Whatever it was he was being told to do, he didn't want to do it."
The report unveiled various other assertions as well, including the claim that Tamerlan had trouble acclimating to local culture in Dagestan – explaining that he wore a long, Pakistani-style shirt, applied kohl eyeliner, and combed his hair with olive oil, practices commonly adhered to in other cultures, but not in Dagestan.
The Globe cast Dzhokhar as a promising kid drawn to trouble, asserting that during his first year of college – he earned an average of $1,000 a week selling marijuana on campus, which in turn financed a life of relative luxury.
Dzhokhar was painted as the leader among his group of high school friends, which consisted largely of foreign students and first-generation immigrants. Because of his flawless English and capacity to charm, Dzhokhar was often tagged as the designated spokesperson when the group ran into trouble with local and campus police, which reportedly happened up to twice a month for things like speeding and drug possession.
Dzhokhar was described as a poor student by the report, which quoted a former math instructor as having said, "He's friendly and personable, but academically lazy."
According to The Globe, Dzhokhar arrived in the US with his parents in 2002. Tamerlan and the boys' two sisters were staying with relatives during the initial move, but joined their family later. The parents are now both reportedly living in Dagestan.
At about 2:49pm on April 15, two explosions occurred near the finish line of the Boston Marathon. IEDs devised from pressure cookers, low explosive powder, shrapnel, adhesive, and other materials were hidden in backpacks that were then placed near metal barricades in areas packed with hundreds of spectators.
According to a related indictment, "Each explosion killed at least one person, maimed, burned and wounded scores of others, and damaged public and private property, including the streets, sidewalk, barriers, and property owned by people and businesses in the locations where the explosions occurred."
The following four days were consumed by a dramatic and at times extremely violent manhunt for the suspects, who were identified by name on April 19 as Dzhokhar (19) and his brother Tamerlan Tsarnaev (26). The manhunt entailed the presence of thousands of law enforcement personnel from local, state, and federal agencies, and resulted in a veritable lockdown through parts of the greater Boston area.
Tamerlan was killed during a police shootout, and Dzhokhar was arrested on the evening of April 19 after having been discovered hiding in a dry-docked boat in the Boston suburb of Watertown.
He was then charged in a criminal complaint dated April 21 with the use of a weapon of mass destruction and malicious destruction of property resulting in death.
Then on June 27, a federal grand jury returned a 30-count indictment against Dhzokhar. The charges include the use of a weapon of mass destruction resulting in death and conspiracy and the bombing of a place of public use resulting in death and conspiracy among others.
According to an accompanying FBI press release, seventeen of these charges carry sentences of up to life imprisonment or the death penalty, and the rest carry sentences of life imprisonment or imprisonment for a fixed period.
At an arraignment hearing on July 10, Dzhokhar pleaded not guilty to all charges pending against him.