Moscow demands apology from Poland over angry-mob incident at consulate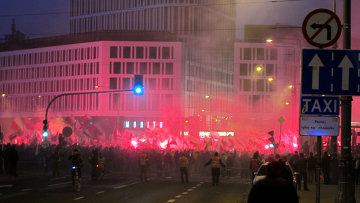 14:53 12/11/2013
MOSCOW, November 12 (RAPSI) – The Kremlin demands an official apology from the Polish authorities and full compensation for damages caused by an aggressive mob at the Russian consulate in Warsaw, according to a statement issued by the Russian Foreign Ministry on Tuesday.
Polish ambassador to Russia Voizeh Zayonchkovsky was summoned to the Russian Foreign Ministry to receive "a formal protest concerning the civil disorder that took place on November 11 near the Russian embassy in Warsaw, staged by a thousand-man strong, aggresive mob that participated in the so-called 'independence march'," the statement reads.
The disturbances came as thousands of people paraded through Warsaw on the annual Independence Day, which marks the anniversary of the reunification of Poland in 1918 after more than a century of being partitioned by Russia, Prussia, and Austria.
The incident occurred after a group of young people splintered away from the route previously approved by the Warsaw city government. In the fighting between protesters and police that ensued, the embassy gates and a sentry post were set on fire.
Police have detained around 54 people in connection with the disorder, and 14 people have been hospitalized.