Putin's human right council moves to release Greenpeace activists from detention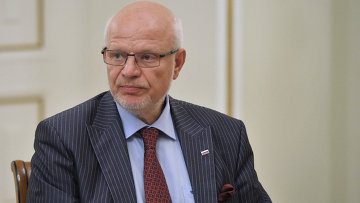 14:42 08/11/2013
MOSCOW, November 8 (RAPSI) -The Presidential Council for Human Rights is going to file with the Investigative Committee a request to change the measure of restraint imposed on Greenpeace activists who were detained in Murmansk over the Gazprom drilling platform raid in the Pechora Sea, Head of the Council Mikhail Fedotov said at a news conference on Friday.
The Arctic Sunrise ship was seized by Russian border guards on September 19 in international waters, within Russia's exclusive economic zone, a day after two Greenpeace activists scaled the Prirazlomnaya drilling rig in the Pechora Sea, the southeastern part of the Barents Sea.
The platform, owned by Gazprom Neft Shelf, a subsidiary of Russian energy giant Gazprom, is the first ice-resistant stationary oil platform in the world set to produce offshore Arctic oil.
Greenpeace and other environmental groups oppose drilling for oil in the Arctic because they say that it is currently impossible to sufficiently clean up potential oil spills in the region, and that such drilling cannot be economically viable.
On October 21, the Netherlands filed a request with the International Tribunal for the Law of the Sea to inflict interim measures which must be taken before the trial on the merits to protect the interests of the party in the dispute.