Only a quarter of all migrants from Kyrgyzstan work legaly in Russia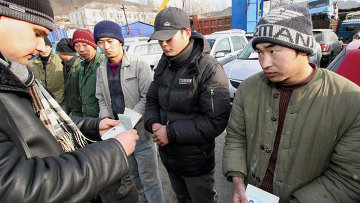 10:57 29/10/2013
MOSCOW, October 29 (RAPSI) - Only a quarter of all Kyrgyz labor migrants present in Russia have appropriate visas and work permits, the Federal Migration Service representative in Kyrgyzstan Vladimir Phillipov told the press on Tuesday.
"133,000 Kyrgyz nationals are working legally in Russia as of today. 65,000 have official work permits and 68,000 have filed for working patents," - Phillipov said. The official Kyrgyz Labor and Migration Ministry data states that approximately 530,000 of Kyrgyz nationals have come to the Russian Federation to work.
Migrant workers have been the targets of a series of police raids across Moscow in recent months, as public discontent has heated up over rising numbers of foreign workers.
Moscow's head of police announced in mid-October that police would start conducting weekly operations to round up unauthorized migrants in the capital.