Russian human rights group wins international award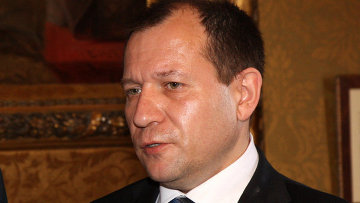 10:21 09/10/2013
MOSCOW, October 9 (RIA Novosti) – A Russian human rights group has become a recipient of a prestigious international award for its dedicated effort to defend human rights in Russia's North Caucasus republic of Chechnya, Human Rights Watch said.
The 2013 Martin Ennals Award for Human Rights Defenders was given on Tuesday to the Joint Mobile Group founded in 2009 after the murder of Natalya Estemirova, one of Chechnya's top human rights defenders.
The group has helped solve a number of politically sensitive human rights abuse cases in Chechnya reportedly becoming a target of threats, smear and intimidation by Chechen authorities.
"The Joint Mobile Group takes on the hardest cases when the justice system has failed," the Human Rights Watch cited its deputy Europe and Central Asia director, Rachel Denber, in a press release.
"It faces tremendous adversity and danger in bringing human rights abuses into the spotlight in today's Chechnya," Denber said.
The Martin Ennals Award, also dubbed "the Nobel Prize for human rights," was created in 1993 as a unique collaboration among ten of the world's leading human rights organizations, including Amnesty International and Human Rights Watch, to give protection to human rights defenders worldwide.
The award is named after Martin Ennals, former secretary-general of Amnesty International, and carries a cash prize of 20,000 Swiss francs to be used by the award winners to support their work in the field of human rights.