UK Parliament votes against military intervention in Syria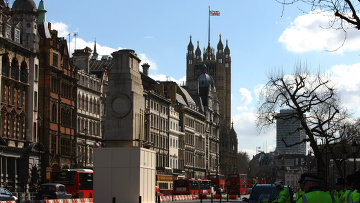 18:08 30/08/2013
MOSCOW, August 30 (RAPSI) – UK Members of Parliament voted against the prospect of a military intervention by the UK in Syria late Thursday evening in a vote of 285 to 272.
The motion presented by the UK Government stated among other things that "a strong humanitarian response is required from the international community and that this may, if necessary, require military action that is legal, proportionate and focused on saving lives by preventing and deterring further use of Syria's chemical weapons."
The opposition Labour Party presented an amendment that differed substantially from the Government's motion, conditioning any potential military action on various requirements, including a "clear legal basis in international law for taking collective military action to protect the Syrian people on humanitarian grounds," and the consideration that any such action should have proper regard for regional stability.
A position supporting the legality of such an intervention was published by the UK Government Thursday.
The document asserts that the use of chemical weaponry constitutes a serious crime of international concern and a breach of customary international law, amounting to a war crime and a crime against humanity. However, the government asserted that "the legal basis for military action would be humanitarian intervention; the aim is to relieve humanitarian suffering by deterring or disrupting the further use of chemical weapons."
The theory was premised on the Syrian regime bearing responsibility for the suspected attack. According to RIA Novosti, Syrian opposition claimed the attack was perpetrated by government forces, while the Syrian government denied the allegations and said it had evidence of rebel groups using chemical weapons.
The opposition amendment, on the other hand, conditioned any possibility of an intervention on the production of compelling evidence that the Syrian regime was in fact responsible for the use of such weapons.
This issue arose during Thursday's debate. At one point Cameron conceded that "in the end there is no 100% certainty about who is responsible; you have to make a judgment. There is also no 100% certainty about what path of action might succeed or fail."
Both the motion and the amendment were defeated, in votes of 285 to 272 and 332 to 220 respectively.
Following the votes, opposition leader Edward Milliband sought assurances that Prime Minister David Cameron would not go ahead with a military intervention: "There having been no motion passed by this House tonight, will the Prime Minister confirm to the House that, given the will of the House that has been expressed tonight, he will not use the royal prerogative to order the UK to be part of military action before there has been another vote in the House of Commons?"
To this, Cameron gave his assurances, stating: "I can give that assurance. Let me say that the House has not voted for either motion tonight. I strongly believe in the need for a tough response to the use of chemical weapons, but I also believe in respecting the will of this House of Commons. It is very clear tonight that, while the House has not passed a motion, the British Parliament, reflecting the views of the British people, does not want to see British military action."