Some 15,000 foreigners denied entry to Russia in 6 months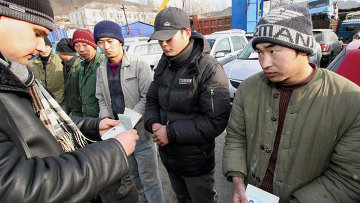 17:20 29/07/2013
MOSCOW, July 29 (RIA Novosti) - Almost 15,000 foreign nationals have been denied entry to Russia for various reasons in the first half of this year, three times more than in the same period last year, the Federal Migration Service (FMS) said Monday.
The FMS Moscow Directorate has started barring foreigners this year for repeat violations of any Russian laws, not just breaches of migration regulations, FMS Moscow chief Olga Kirillova said, without providing any figures.
About 60 percent of Russia's 5 million migrant workers are in the country illegally, the FMS said in March. Most foreign migrant workers in Moscow are from the former Soviet republics of Central Asia and are allowed to enter the country without a visa. Last month acting Moscow Mayor Sergei Sobyanin called for tougher measures against illegal migration, claiming the city currently has about 300,000 illegal residents.
Kirillova said the migration situation in Moscow is slowly stabilizing as police conduct more checks and prevent violations of migration regulations. Over 26,000 commercial and social facilities in Moscow were checked during the first half of the year, which helped prevent more than 88,900 such violations, she said.
Russia has the world's largest number of illegal migrants, accounting for almost 7 percent of the country's working population, according to a 2012 report by the Organization for Economic Cooperation and Development.
Migration remains a contentious and difficult issue for the Russian government. According to a VTsIOM poll released last week, Russians fear an influx of foreign nationals more than terrorism or natural disasters. But the Russian economy needs an influx of young workers to make up for the falling numbers of working-age people, with Moscow in particular having almost no unemployment according to recent statistics.