French police confirm placing former Moscow Region finance minister in custody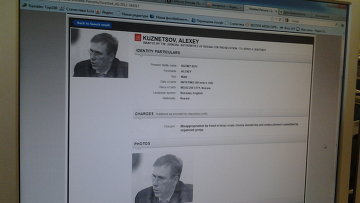 11:25 09/07/2013
PARIS, July 9 (RAPSI) - Alexei Kuznetsov, the former finance minister of the Moscow Region suspected of major fraud, is currently in custody in southern France, a spokesperson of Toulon police told RIA Novosti.
"Kuznetsov is in custody in the Provence-Alpes-Cote d'Azur Region, but I am not authorized to disclose the location," he said.
He confirmed that the fugitive official was detained on Friday in a hotel in Gassin, not far from Saint-Tropez.
When asked whether Kuznetsov may be released until the decision is taken on his extradition, the police spokesman said he did not think so. The decision will be taken in a few days, after the French authorities receive the relevant request from Russia.
"France has a few days to decide. The decision will be coordinated with the Russian side," he said, adding that the police are cooperating with the French Embassy in Moscow, but have not contacted Russian diplomatic missions in France.
According to the investigators, from November 2005 to November 2006, a group organized by Kuznetsov deceived several housing and utility companies into selling it over 3.5 billion rubles ($105.4 million) worth of claims against the Moscow Region's municipal authorities. The group laundered and misappropriated the money. It also embezzled the property of the Mosobltransinvest company worth 7.2 billion rubles ($216.75 million).
Kuznetsov was placed on the federal and subsequently on the international wanted list in November 2012 on suspicion of fraud, money laundering and embezzlement. The investigators said the search for Kuznetsov gathered speed after Investigative Committee head Alexander Bastrykin met with the French police chief in January 2013.