Kyrgyz president lifts state of emergency around Kumtor mine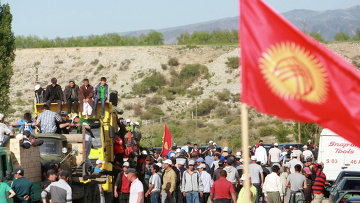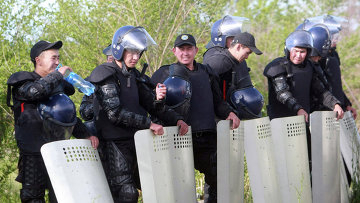 11:24 03/06/2013
BISHKEK, June 3 (RAPSI) - The President of Kyrgyzstan has lifted the state of emergency in the Kumtor area, the region's largest gold mine, earlier than planned, a presidential spokesman told RIA Novosti.
The state of emergency was revoked after the situation stabilized, he said.
On Tuesday, several hundred people in the Issyk-Kul Region got together at the Kumtor mine, demanding that the government cancel its agreement with Centerra Gold, the Canadian investor developing the mine.
The protesters put up tents blocking the road and preventing supplies and personnel from moving to and from the mine. They later entered the Tamga power substation with firebombs and cut off power to the mine and the gold extraction plant.
On Friday morning, the law enforcement authorities finally succeeded in freeing the substation and arresting the organizers of the rally. The arrests were followed by clashes between the protesters and police across the region. The police used riot-control gear and weapons. Around 55 people were injured.
The president ordered a state of emergency and a curfew in the area until June 10.
The Kumtor mine is the largest gold mine in Central Asia, having produced more than 8.4 million ounces of gold between 1997 and the end of 2011, according to Centerra's website.
Under a 2009 agreement, the Kyrgyz government acquired one-third of Centerra. Centerra's subsidiary, Kumtor Operating Company, is the largest revenue earner for the Kyrgyz budget.
In 2011, it accounted for 12 percent of Kyrgyzstan's GDP and over half its industrial output, according to government statistics; last year, those figures dropped to 6.6 percent and 37.9 percent, respectively, due to damaging work stoppages at the mine, which dragged down the entire economy.
Earlier this spring, the Kyrgyz authorities pointed to the multiple environmental abuses committed by the Canadian investors while developing the mine, and demanded a change of the investment agreement to give the country's government a stronger position with regard to further production.