Two Georgian Orthodox priests accused of leading violent anti-gay mob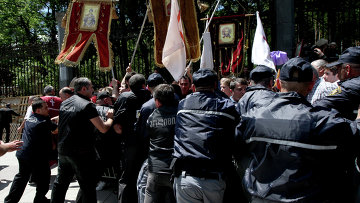 17:39 23/05/2013
TBILISI, May 23 (RAPSI) - Two Georgian Orthodox priests have been accused of infringing the right to hold meetings and demonstrations by organizing a mob rally against gay rights demonstrators in downtown Tbilisi on May 17, Novosti-Georgia agency reported citing the Interior Ministry.
A demonstration for gay rights involving a few dozen people was disrupted by tens of thousands of clergy representatives and NGO members, who had gathered together in the center of Tbilisi at 1 p.m., the time the gay rights demonstration was scheduled to start.
According to Georgia's Ministry of Healthcare, the clashes resulted in 28 people injured, including three policemen and one journalist.
The Georgian Interior Ministry has launched criminal and administrative cases against several of those involved in the clashes.
Georgian Prime Minister Bidzina Ivanishvili said that all those guilty in the events of May 17 - both clergy representatives and civilians - will be punished in accordance with the law.
On Tuesday, the Tbilisi City Court's administrative board found four of the detained guilty of disorderly conduct. They will pay a fine of 100 lari, around $60.