Journalist suspected of planning riots in Riga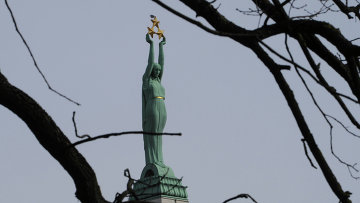 10:57 21/05/2013
RIGA, May 21 (RAPSI) - The Latvian Security Police is investigating journalist Andrejs Hramcovs on suspicion of attempting to organize mass protests during the May 9 Soviet Victory Day events in Riga, Kristine Apse-Krumina, an aide to the Security Police's chief, told the media on Monday.
"Based on the report, the Security Police opened a criminal process pursuant to Section 225 of the Criminal Law. Several persons who were supposed to participate in said activities were identified and questioned as part of the investigation," Apse-Krumina said, as quoted by The Baltic Course.
Hramcovs is suspected of planning a provocation to attract the attention of foreign media and to discredit Latvia, she said.
Section 225 of the Criminal Law stipulates punishment of between three to twelve years imprisonment for organizing "mass riots that entail demolition, destruction, burning, destruction of property, or violence against individuals, or resistance to representatives of public authority."
Hramcovs denies the charges. He said he was making a video for a St. Petersburg TV channel about the run up to the May 9 celebration, and asked the people what they thought about the government's proposal to ban the use of Soviet symbols at public events.
Hramcovs said he did not organize any riots. "I was filming material for St. Petersburg's Channel 5," he told RIA Novosti. "The case is groundless. The Security Police is only feigning activity."
The Latvian Association of Journalists has said that asking people's opinion about the ban on the use of Soviet symbols cannot be considered as inciting public unrest and that the Law on the Press and Other Mass Media allows journalists to collect information in any manner within the law.
The use of Nazi, Soviet Union and Latvian Soviet Socialist Republic symbols is prohibited in Latvia during marches, demonstrations and meetings. But the ban does not cover entertainment, festive and sports events.
Latvia's official position is that it was occupied by the USSR from 1940 through 1991. Russia as the successor of the Soviet Union does not recognize the occupation. It has long been at odds with the Baltic states of Lithuania, Estonia and Latvia, as well as Poland, over what it sees as attempts to rewrite the history of World War II and to diminish the Soviet Unions role in the defeat of Nazi Germany.