Election monitoring NGO refuses to register as foreign agent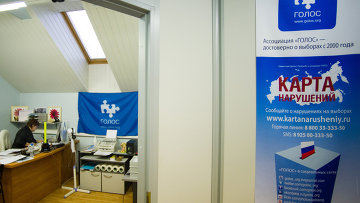 12:43 25/04/2013
MOSCOW, April 25 (RAPSI) - The Golos Association, a non-profit voters' rights group, has refused to call itself a foreign agent as required by the new NGOs law, RAPSI reported from the Presnensky Court on Thursday.
Golos has been charged with failing to register as a 'foreign agent' for operating in Russia and receiving funding from abroad.
"Your honor, I consider these charges ungrounded," a Golos representative said. "We believe there are no signs that Golos acts as a foreign agent. The group does not receive any funds from foreign countries. Moreover, the Ministry of Justice has described in its protocol the actions of a different organization with the same name, the Golos Regional Public Association. This is the source of the mistake."
This regional organization, unlike the Golos Association, did receive funding for abroad. It worked on a draft election code for several years, an initiative which was sponsored by the European Union. The draft, however, was completed in 2011, the Golos Association representative pointed out.
Golos Association is the first NGO to face administrative charges following the enforcement of the new NGO law which requires any organization involved in political activities and financed from abroad to file for 'foreign agent' status.