Foreign Ministry only uses official data on Russians arrested abroad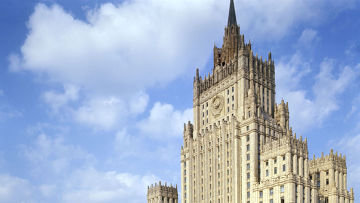 13:43 19/04/2013
MOSCOW, April 19 (RAPSI) - The Foreign Ministry only uses official data about Russian nationals detained or arrested abroad. To date, there are 51 such Russians in Turkey and 97 in Poland, the ministry's spokesperson Alexander Lukashevich said at a briefing on Friday.
"In accordance with the information that the host countries have provided to Russian organizations abroad, 51 Russians were serving sentences or had been arrested, imprisoned or detained in Turkey as of Dec. 31, 2012. The figure for Poland was 97," he said while responding to a critical article published in Vedomosti newspaper on April 16.
The newspaper claimed that the Foreign Ministry has incomplete data regarding Russians sentenced abroad.
Lukashevich stressed that the ministry only reports on Russians who are under investigation or who have been sentenced abroad based on official data. However, it is sometimes difficult to obtain this data, he said.
"The arrested, many of whom hold both Russian and foreign passports, sometimes refuse to talk with our personnel. It is clear that they do this to conceal information about their actions," he said.