One Boston Marathon bombing suspect dead after MIT campus shootout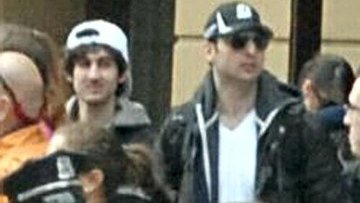 12:06 19/04/2013
MOSCOW, April 18 (RAPSI), Ingrid Burke - Boston Police Commissioner Edward Davis confirmed the death of one of the suspects implicated in Monday's Boston Marathon bombing which left three dead and upwards of 176 via his Twitter account Friday, stating simply: "One suspect dead. One at large. Armed and dangerous. White hat suspect at large."
The suspect's death was reported on the heels of a late-night shootout on the Watertown campus of the Massachusetts Institute of Technology (MIT), one of the nation's most prestigious universities. The Boston Globe reported that witnesses on the scene heard explosions, and that police on the scene were yelling about improvised explosives. The shootout left one MIT police officer dead. The Globe reports that a second suspect in the Boston Marathon bombing remains at large near the campus.
Police officials told reporters that as the manhunt endures, all public transportation has been shut down in Boston. Watertown is under lockdown. No vehicle traffic will be allowed in or out. The police have asked everyone to stay in their houses under lockdown and has urged all businesses to remain shut.
Harvard University, located nearby, closed for the day, stating on its website: "Harvard University is closed due to public safety concerns. Please continue to watch this page for updates."
The Boston Police Department tweeted: "There is an active incident ongoing in Watertown. Residents in that area are advised to remain in their homes. More details when available." Shortly thereafter, the department's official Twitter account reiterated calls for a lockdown, and urged residents not to answer their doors for anyone other than police: "Residents of Watertown asked to stay indoors. Do not answer door unless instructed by a police officer."
© George Olepere
Boston Marathon blast
Two blasts occurred at the finish line of the Boston Marathon, America's most prestigious 26.2 mile race which boasts such stringent entry requirements that only the best of the best are entitled to compete. Three people have been confirmed dead, including an eight-year-old boy present to cheer on his father. The Boston Police Department tweeted in its latest casualty update Tuesday that 176 injured have gone to local hospitals. A large-scale, multi-agency investigation is presently underway.
On Thursday the FBI announced that it had zeroed in on two suspects of the Boston Marathon bombing, and released video and photo footage of the two to the public. In releasing the footage, Special Agent in charge of the FBI's Boston Division Richard DesLauriers called on the public to help in the investigation: "Today we are enlisting the public's help to identify the two suspects."
The somewhat grainy photos feature two young men with dark hair, both wearing baseball hats and carrying backpacks, as they wander through the crowd of marathon spectators. According to DesLauriers, the man who presently remains at large – seen smiling in most of the shots released to the public – set down a backpack at the site of the second explosion.
On Tuesday, US Attorney General Eric Holder announced that the US Department of Justice (DOJ) was treating the crime as an act of terror.
Holder declared, "As President Obama stated earlier today, we are treating this event as an act of terror. This morning, I met with the President and my fellow members of his national security team to discuss our continuing response. Although it is not yet clear who executed this attack, whether it was an individual or group, or whether it was carried out with support or involvement from a terrorist organization – either foreign or domestic – we will not rest until the perpetrators are brought to justice."
Elaborating on his administration's rationale in pegging the crime as terrorism from the start, US President Barrack Obama explained at a press briefing Tuesday: "This was a heinous and cowardly act. And given what we now know about what took place, the FBI is investigating it as an act of terrorism. Any time bombs are used to target innocent civilians it is an act of terror. What we don't yet know, however, is who carried out this attack, or why; whether it was planned and executed by a terrorist organization, foreign or domestic, or was the act of a malevolent individual."
The US Code's terrorism section imposes no statutory maximum prison sentence against any individual convicted in connection with the placement, discharge, or detonation of an explosive or other such deadly device in a public place on US soil with the intent to cause death, serious bodily harm, or extensive property damage. In other words, individuals convicted of such can face any number of years, or life behind bars. In cases where the attack resulted in death, perpetrators can be executed in accordance with the Code.
The same is true for individuals convicted on charges of attempt or conspiracy in connection with such a detonation of explosives.
Past terror attacks on US soil have turned up very different results with in connection with the death penalty.
If the perpetrator(s) of the Boston Marathon attacks are brought to justice via jury trial, the jury will have to unanimously agree that any and all aggravating factors outweigh any and all mitigating factors, so as to justify the death penalty, in order for it to be imposed. As stipulated by the US Code, "[o]therwise, the court shall impose any lesser sentence that is authorized by law," including life in prison without the possibility of parole.
Timothy McVeigh was sentenced to death after having been convicted of masterminding and carrying out a bombing in Oklahoma City in 1995 that left 167 dead, upwards of 600 injured. Among the dead were 19 children aged five and under. At that point it was considered to be the deadliest terror attack in US history – a distinction it would lose to the 9/11 attacks a few years later. McVeigh was convicted and sentenced to death by a unanimous jury in 1997.
A DOJ statement released in August 1995 revealed the charges: "The first three are for conspiring to use a weapon of mass destruction to kill persons and destroy federal property, for using a truck bomb to kill people, and for malicious destruction of federal property resulting in death. The remaining eight counts are for violating a federal murder statute that punishes the killing of federal law enforcement officials - one count for each of the eight law enforcement officers killed in the blast. The indictment lists by name all of the persons who died inside the building. The maximum possible penalty is death."
He was found guilty of conspiracy to use a weapon of mass destruction, the use of a weapon of mass destruction, destruction by explosive, and numerous counts of first degree murder, and sentenced to death by a unanimous jury vote, according to a copy of the sentencing remarks published online by the University of Missouri – Kansas City's Famous Trials project.
On the other hand, Zacarias Moussaoui, who pled guilty to conspiracy in connection with the 9/11 terror attacks, did not receive the death penalty. Although he had been in jail at the time of the attacks, he was largely reputed to have anticipated being one of the 9/11 hijackers. He testified in court that he wanted to fly a plane into the White House. Still, according to trial documents published by the BBC, three jurors found that he "had limited knowledge of the 9/11 attack plans." Thus he received a life sentence rather than the death penalty.