Alfa Group, VTB Bank locked in battle over Swedish Telecom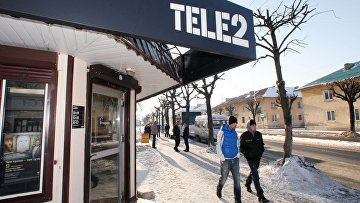 16:13 28/03/2013
MOSCOW, March 28 - RAPSI. Alfa Group, owned by Russian tycoon Mikhail Fridman, became embroiled in a battle Thursday with Russia's second-largest lender VTB Bank over the cell phone network business of Swedish telecoms operator Tele2.
A1, Alfa Group's investment vehicle, said on Thursday it would challenge a deal by state-owned VTB to acquire 100 percent of Tele2 Russia, claiming the transaction runs counter to the interests of minority shareholders at Tele2 and the Kinnevik investment company that controls the Swedish telecoms holding. The deal has not yet been closed.
"The move on behalf of Tele2 to sell the Russian telecom business of Tele2 to the Russian bank VTB for an enterprise value of $3.55 billion (debt and equity) does not represent the best value for stockholders and is below the market value of Tele2 Russia estimated by A1," Alfa Group's investment division said in a statement.
VTB Bank announced on Wednesday that it was acquiring 100 percent of Tele2 Russia, the country's No. 4 telecom firm with operations in 43 Russian regions and 22.7 million subscribers, for $2.4 billion and assuming the mobile operator's debt of $1.15 billion.
VTB also said it was well positioned to support Tele2 Russia at the next stage of the company's development with a view to subsequently "realize its investment."
A1 said that it had negotiated the purchase of Tele2 Russia on more advantageous terms last year but its offer was rejected.
"During 2012, A1 had a number of meetings with shareholders of Kinnevik and the management of Tele2 in the course of which we put forward an offer to acquire Tele2 Russia, pricing it significantly higher than the deal announced today," A1 said.
"The A1 offer was rejected in October by Morgan Stanley, advisors to Tele2, without reasonable explanation or discussion. The offer was subsequently addressed directly to the Board of Directors of Tele2 and again was discarded, despite our readiness to exchange new offers."
A1 also said it was ready to immediately present an offer "to buy 100 percent of Tele2 Russia at a price ranging from $3.6 billion to $4 billion, all payable in cash," without debt financing, and that it was also willing "to agree to a purchase price for the remaining assets of Tele2 over a very short period of time."
A1 said its core shareholder Alfa Group has experience in the telecoms business as it has developed "the world's fifth-largest telecom company Vimpelcom."
VimpelCom is one of Russia's top three cell phone network firms, and operates under the Beeline trademark.
Tele2 was quick to respond to A1's statement.
"I have just read this statement [by A1] and would like to say that we are very pleased with our deal with VTB, which we think is a very strong deal," Tele2 spokesman Lars Torstensson said, adding that Tele2 saw no threat in A1's stated intention to take legal action and expected to close the deal soon.
Torstensson said Tele 2 had thoroughly analyzed the transaction and found it to be "very successful."
The Tele2 spokesman also said that to his knowledge, neither Alfa Group nor its divisions were minority shareholders of Tele2 or Kinnevik.