Four Belarusian crime lords detained in Russia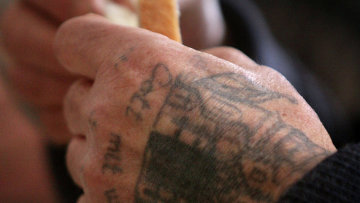 12:39 22/03/2013
MINSK, March 22 - RAPSI. Four Belarusian crime lords have been detained in Russia, the Belarusian Interior Ministry announced in a statement. "The operation to detain these crime lords was planned after they were crowned at a meeting of criminals in the United Arab Emirates," the statement reads.
Crowning refers to a type of advancement rite within the ranks of the Post-Soviet criminal underworld.
According to the Belarusian police, the four detainees are Pavel Alekseyevich, aka Pashtet (Pate), Ruslan Lebedev, aka Lebed (Swan), Alexander Medvedev, aka Medvezhonok (Little Bear) and Oleg Gerasimovich, aka Mumu.
On January 26 the Belarusian and Russian police raided a meeting of Belarusian and Russian criminals who had got together in the Odintsovo District of the Moscow Region to discuss their plans after the recent assassination of clan boss Aslan Usoyan, aka Grandpa Hassan. Usoyan was killed in broad daylight in downtown Moscow in January.
According to investigators, the killer, who has escaped, shot the criminal boss from a window of the building across from Usoyan's favorite restaurant.
Alekseyevich (Pashtet) was detained during the raid for being in possession of 1.5 grams of cocaine. A criminal case has been opened against him for drug possession. Ruslan Lebedev was detained during the next raid in Moscow on February 13. He was also found in possession of drugs and a false passport. Alexander Medvedev, 43, was detained in Moscow a month later. He was in possession of around 15 grams of hashish.
The final stage of the joint operation was the detainment of Oleg Gerasimovich, aka Oleg Slutsky or Mumu, on March 19. He was in possession of 1.17 grams of cocaine.