No traces of explosives found in Polish president's plane wreckage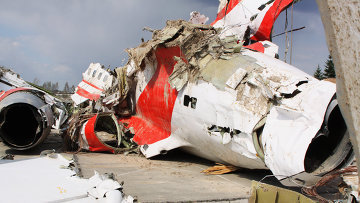 15:22 07/03/2013
MOSCOW, March 7 - RAPSI. A new expert review hasn't revealed traces of explosives in the wreckage of the airplane that crashed while carrying Polish President Lech Kaczynski in 2010, Russian Investigative Committee official spokesman Vladimir Markin said on Thursday.
Markin added that Russian and Polish investigators have finished their co-investigation of the crash that was launched on February 18.
It was the Polish daily Rzeczpospolita which reported in October 2012 that traces of TNT and nitroglycerine were found amid the wreckage of the plane.
Tomasz Wroblewski, editor-in-chief of the newspaper was fired along with correspondent Cezary Gmyz and two other staff members over an article which turned out to be false. Rzeczpospolita has published a statement claiming that responsibility must be taken for mistaken decisions, hence the reason for these dismissals.
A plane carrying former President Lech Kaczynski, his wife, and a host of high-level officials crashed near Smolensk on April 10, 2010, killing 96 people. The Polish Tu-154 plane crashed while landing due to the thick fog. The Moscow-based Interstate Aviation Committee issued a final report in late July 2011, placing the blame entirely on the Polish crew. Meanwhile, Poland, which carried out a separate investigation, partially blamed the Russian air traffic controllers for the tragedy.