Criminal punishment for ritual bride abduction toughened in Kyrgyzstan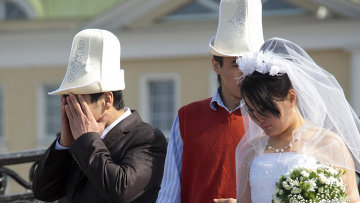 12:19 28/01/2013
BIZHKEK, January 28 - RAPSI. President of Kyrgyzstan Almazbek Atambayev has signed into law amendments to the criminal code that will toughen sanctions for forcing women into marriage, a spokesperson for the president's press service told RIA Novosti Monday.
"The law which has been approved by Kyrgyzstani parliament is designed to strengthen the protection of the rights of girls aged below 17, as well as the rights of women to a free marriage," the spokesperson said.
Under the law, the punishment for forcing a woman into marriage is between five and seven years. A man who forces a girl under 17 to marry him may face seven to ten years behind bars.
The previous punishment for abducting a woman for marriage against her will or for preventing a marriage constituted a fine, or up to three years in prison.
The law toughening the punishment for bride abduction was adopted after years of hard work by human rights NGOs. According to their information, over 11,000 girls are kidnapped for marriage in Kyrgyzstan every year.