Pussy Riot girls out of New Year celebration due to early lights-out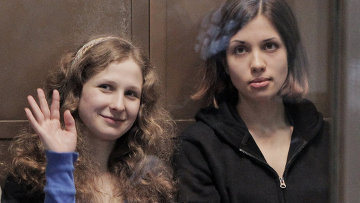 12:14 20/12/2012
MOSCOW, December 20 - RAPSI, Diana Gutsul. Pussy Riot band members Maria Alyokhina and Nadezhda Tolokonnikova, sentenced to two years in prison for disorderly conduct in the Christ the Savior Cathedral, will not be able to celebrate New Year because of the strict rules kept at their penal colony, attorney Irina Khrunova told the Russian Legal Information Agency (RAPSI/rapsinews.com).
"Alyokhina and Tolokonnikova will not be celebrating New Year because the penal colony works on a day schedule, with no exceptions. Lights go out at 9 p.m. and wake up is at six. There is no room for flexibility. Rules are rules," Khrunova said. Samutsevich will be celebrating New Year at home with her family, the attorney said.
In late February, five young women wearing brightly colored balaclavas performed a "punk-style" prayer at the altar of Moscow's Christ the Savior Cathedral. An edited video of their performance that was posted on the Internet caused a public outcry.
The Khamovnichesky District Court sentenced three Pussy Riot members to two years in prison on August 17. The Moscow City Court later commuted Pussy Riot member Yekaterina Samutsevich's sentence from two years in prison to immediate release on probation, due to the fact that she was detained by security prior to reaching the stage, and so did not actually participate in the protest.
The judge left Tolokonnikova and Alyokhina's sentences intact.