Ukrainian ombudsman looks into Razvozzhayev's kidnapping statement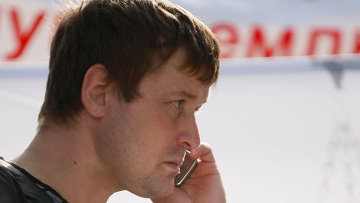 17:02 12/11/2012
KIEV, November 12 - RAPSI, Andrei Lubensky. The office of a Ukrainian human rights ombudsman is looking into the alleged kidnapping of Russian opposition figure Leonid Razvozzhayev in Ukraine, Ukrainian Parliamentary Human Rights Ombudsman Valeria Lutkovskaya said on Monday.
"We are dealing with the issue," she said at a briefing, adding that inquiries have been made as to how the kidnapping could have occurred. "We have submitted the relevant inquiries."She did not specify who the inquiries were sent to, but noted that no responses have been received.
"As soon as we receive the corresponding information and analyze it, we will give recommendations to the state authorities on how to avoid such situations," the ombudsman said.
On October 19, the Russian Investigative Committee placed Razvozzhayev on the federal wanted list. He was charged with organizing public unrest together with Left Front movement coordinator Sergei Udaltsov and his aide Konstantin Lebedev. The case against them was initiated after the premiere of the "Anatomy of Protest 2" documentary film on NTV.
The film claimed that the opposition was organizing a coup using funds from abroad. The film shows Udaltsov and his companions allegedly talking with Georgia's then-Parliamentary Defense and Security Committee head Givi Targamadze, who is said to be experienced in planning the "color" revolutions in Georgia and Ukraine, as well as mass riots in Belarus.
While in Kiev, Razvozzhayev applied for political asylum with the UNHCR. He mysteriously disappeared after leaving the UNHCR office, and ended up in the custody of the Russian police.
The Investigative Committee later reported that Razvozzhayev came to them on his own accord, declaring that he wanted to confess.
Razvozzhayev said he was kidnapped, taken from Ukraine, pressured and tortured into giving a phony confession.
The Investigative Committee has started to look into the information as well, although the opposition figure has yet to file any applications in this regard.
Earlier, human rights activists visited the ward where Razvozzhayev is being kept and were unable to find traces of torture on his body.