European Parliament recommends imposing Magnitsky list sanctions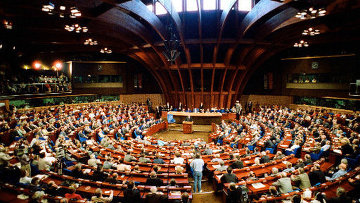 11:00 24/10/2012
BRUSSELS, October 24 - RAPSI. During its plenary session in Strasbourg on Tuesday, the members of the European Parliament approved a report containing sanction proposals regarding the Russian officials who are thought to be involved in the death of Sergei Magnitsky, RIA Novosti was told at the office of MP Kristiina Ojuland.
Magnitsky, a Hermitage Capital Management Fund auditor, was charged with planning large-scale corporate tax evasion. He died in a pretrial detention center on November 16, 2009 after spending a year behind bars. He spent most of his time in detention in the Butyrka jail.
Ojuland represents the Alliance of Liberals and Democrats for Europe (ALDE), the third largest faction in the European Parliament, and is the sponsor of the document which recommended that the EU Council should impose visa restrictions on Russian officials on the Magnitsky list.
The ALDE launched a parliamentary procedure in April which stipulated the drafting of a "black list" of Russian officials believed to have been involved in the Hermitage Capital auditor's death.
In February, members of the European Parliament delegation for relations with Russia called for immediately prohibiting the officials on the list from entering the EU countries and freezing their assets.
Only the head of the delegation, Knut Fleckenstein, abstained from voting during the adoption of the resolution. Fleckenstein is also the chairman of the EU-Russia Parliamentary Cooperation Committee Delegation in the European Parliament.