Draft law on religious offence punishment submitted to State Duma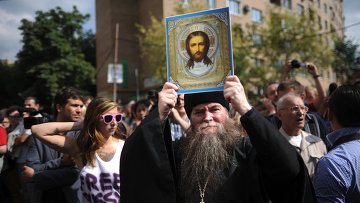 12:58 26/09/2012
MOSCOW, September 26 - RAPSI. Lawmakers have submitted a bill to the State Duma which stipulates a prison sentence of up to 5 years and increases fines by a factor of 100 for causing religious offence and desecrating sacred places, the Liberal Democratic Party's Yaroslav Nilov, head of the Committee for NGOs and Religious Organizations, told journalists Wednesday.
The bill proposes supplementing the Criminal Code with an article on "Offending the religious views and feelings of citizens and (or) desecrating facilities or objects of religious worship and places for religious rites and ceremonies."
The bill stipulates a fine of up to 300,000 rubles ($9,590), up to 200 hours of compulsory community service, or three years in prison for publicly offending and disrespecting religious services, rites and ceremonies, and causing religious offence to people's beliefs and feelings.
Individuals who desecrate facilities or items of religious worship, places for religious rites and ceremonies, and damage and (or) destroy these items / places may be subject to fines ranging from 100,000 ($3,200) to 500,000 rubles ($15,980).
The draft law reads that in such cases, the preliminary investigation will be conducted by investigators from internal affairs' authorities.
The amendments also stipulate the possibility of issuing higher administrative fines (over 5,000 rubles - $160) to civilians and officials.
During its meeting on Tuesday, the State Duma approved a statement on protecting people's religious sensitivities. It was supported by 414 votes - only 226 votes were required for passage.