Two parties plan to strip oppositionist Gudkov of Duma seat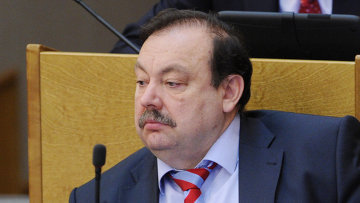 13:20 12/09/2012
MOSCOW, September 12 - RAPSI. United Russia and the Liberal Democratic Party, two of the four political parties represented in Russia's State Duma, plan to vote in favor of stripping A Just Russia lawmaker Gennady Gudkov of his parliamentary seat during Friday's Duma session. Meanwhile, A Just Russia party members are determined to take the matter to the Constitutional Court, should Gudkov be stripped of his seat, as they believe this would be in violation of the Constitution.
The State Duma was originally planning to hold a vote on his mandate on September 12, however the session has been postponed. Over the next two days, the documents in Gudkov's case will have to pass all readings in the State Duma and be submitted for the Duma Council meeting on Thursday. The Council will then decide on the date for the State Duma to hold a vote on the case. The house's chamber does not believe that the Duma Council will prolong the consideration of the case any further and will probably schedule it for this Friday.
On Monday, the State Duma Commission for Control over the Credibility of State Deputies' Incomes and Expenses confirmed that A Just Russia party State Duma deputy Gennady Gudkov is involved in business activities.
After looking into all the material provided by the Investigative Committee, the Commission concluded that there is sufficient information regarding Gudkov's breach of State Duma deputy legislation and enough grounds to have his powers stripped from him.
The Commission will submit its report to the State Duma chairman, who will raise the issue with the State Duma council.
According to current Russian legislation, deputies are not permitted to be involved in business.
Previously, Alexander Shchukin, head of the Investigative Committee's Investigative Department, disclosed that Gudkov was involved in managing a construction company in Bulgaria.
In June, it was revealed that investigators were carrying out an inspection upon the application of Bulgarian citizen Ivaylo Zartov on Gudkov's purported investments in a Bulgarian firm and his alleged tax evasion in Russia. Gudkov said that Zartov had previous convictions in the Czech Republic and Bulgaria and was just trying to settle accounts with him.
Additionally, the Interior Ministry looked into the security businesses owned by the Gudkov family and found that a number of violations had been committed here too. Gudkov believes these investigations are connected to his political opposition.
As most seats are held by United Russia party members, Gudkov has sent letters to 50 United Russia deputies, asking them to vote against stripping him of his mandate.