Russia to press for extradition of Bout and Yaroshenko, says Lavrov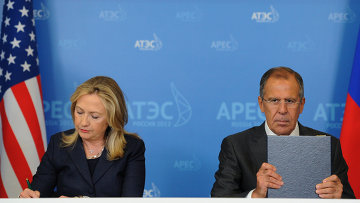 11:13 10/09/2012
VLADIVOSTOK, September 10 - RAPSI. Russia will be insisting on the extradition of Russian citizens Viktor Bout and Konstantin Yaroshenko, Foreign Minister Sergei Lavrov said. The two men have been sentenced to long prison terms in the United States.
During talks held on Sunday as part of the APEC-2012 Leaders' Week, Lavrov brought U.S. Secretary of State Hillary Clinton's attention to the claims against the conditions in which Russian citizens Bout and Yaroshenko are being held.
"We confirmed that we are undertaking steps to use available legal procedures so as to extradite the Russian citizens," Lavrov said.
On April 5, Bout was sentenced to 25 years in prison by the New York Federal Court for planning to sell arms to the leftist Colombian Revolutionary Armed Forces.
Yaroshenko was sentenced to 20 years in prison for colluding in the smuggling of a cocaine shipment to the United States.