Russia's State Duma passes bill giving senior students right to teach at schools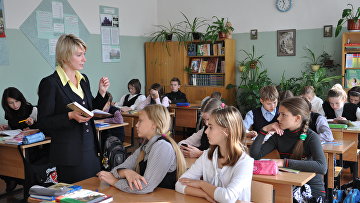 17:44 27/05/2020
MOSCOW, May 27 (RAPSI) – The State Duma has adopted in the third and final reading a bill permitting senior students to teach at schools, head afterschool projects, and lead additional courses, according to a statement of the lower house of Russia's parliament.
The amendments to the law on education envisage that the right to teach schoolchildren across general education programs is to be given to students taking courses in educational and pedagogical sciences, who have been successfully attested over no less than three years of studies.
Afterschool projects and additional courses are to be headed by successful third-year students of higher educational establishments engaged in the topics being subjects of aforesaid projects and courses; moreover, the students are to take courses centered on the respective topics. Employers are to control if these requirements are met, the document reads.
The key point is that the students' specialties corresponded with the topics of projects and courses they are engaged in, like students studying engineering may give courses addressing robot-related technologies, the State Duma Chair Vyacheslav Volodin notes. He believes it is a great chance for the students to try their abilities in the professions they have chosen and to partially settle the problem of staff shortages.