Russia's President signs amendments restricting prosecution of businesspersons into law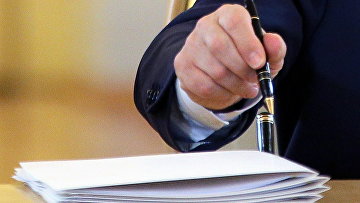 18:23 01/04/2020
MOSCOW, April 1 (RAPSI) – Russia's President Vladimir Putin has signed into law legislative amendments limiting the application of a Criminal Code article defining sanctions for participation in or organization of criminal societies as concerns businesspersons as well as those mitigating punishments for forex-related crimes.
The laws have been published on the official website of legal information.
The respective bills were approved by the State Duma on March 19, and by the Federation Council on March 25.
The amendments envisage that founders, managers and employees of a legal entity and its units are not to be criminally prosecuted exclusively on the basis of the organizational structure thereof and economic crimes related to their business or other economic operations except for the cases where a legal entity or its units have been specifically established for committing a serious crime an especially serious crime, or a number thereof.
As to foreign exchange-related crimes, the respective amendments to Russia's Criminal Code are to the effect that single or repeated violations of foreign currency control rules governing remittance or surrender of forex funds exceeding 100 million rubles (about $1.3 million at the current exchange rate) within a year are to be criminalized only if committed by a person earlier subjected to administrative punishment for a similar offence.
There is introduced equal enhanced responsibility for such violations committed by a group of persons acting in collusion and an organized gang.
At the same time, the new provisions envisage that the Criminal Code is amended so to set increased amounts of non-repatriated funds defined as large (100 million rubles) and especially large (150 million rubles) for the purposes of bringing offenders to criminal responsibility.
Persons violating forex regulations as to the transfer or return of funds due from nonresidents to residents are to be administratively liable, the new legislative provisions read.